At Water Distillers Australia, our devotion to health and well-being has driven us to specialise in top-quality water distillers. We are driven by a need for a healthy lifestyle that we believe begins with high quality water. Our years of experience and expertise in the field have allowed us to develop a range of water distillers that deliver unparalleled purity.
We take great pride in being a family-owned and operated business. We believe that our unique approach allows us to connect with our customers on a personal level and truly understand their needs.
As a family business, we can assure you that we are large enough to provide comprehensive support to our valued customers when needed. We are also small enough to actually care deeply about each individual customer and their unique requirements.
We are committed to going the extra mile to ensure that every customer receives the attention, care, and satisfaction they deserve when choosing Water Distillers Australia as their trusted source for clean and pure drinking water.
Our philosophy is dedicated to prioritising quality over quantity. We know that providing our customers with top-quality water distillers is paramount to our success. By selecting and offering products of exceptional quality, we can ensure their durability, reliability, and performance.
Our commitment to quality extends to every aspect, from the components used in our distillers to the level of craftsmanship involved in their construction. We firmly believe that quality products not only meet but exceed customer expectations, resulting in long-term satisfaction and loyalty.
By upholding our commitment to quality, we've built trust with our customers, establishing Water Distillers Australia as the country's premium supplier of water distillers.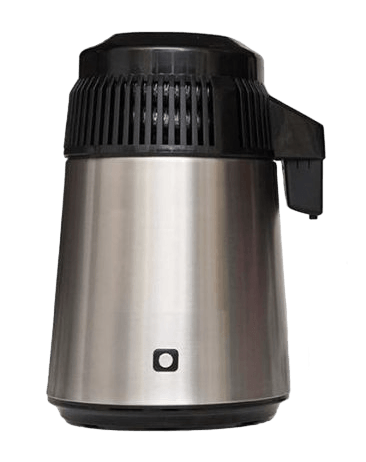 We go beyond merely offering a wide selection of water distillers at various price points; we are committed to providing only the highest quality distillers on the market. Each water distiller in our inventory undergoes meticulous scrutiny to ensure it meets our stringent standards for quality and durability. Should you have any inquiries or concerns regarding your order, our dedicated customer support team is always available to assist you. Additionally, we have implemented a "best price policy" to ensure that you receive the most competitive pricing available. These distinctive qualities, combined with our expertise and genuine passion for water distillers, make us the premier choice for all your water distillation needs.
Australia's best range of high quality water distillers
Benchtop Water Distillers
Countertop water distillers offer a convenient and compact solution for purifying water in any kitchen or space. These compact units are designed to sit comfortably on a countertop, making them easily accessible for daily use. Despite their small size, countertop water distillers are powerful and efficient, capable of effectively removing impurities, contaminants, and even bacteria from water.
Stainless Steel Water Distillers
Stainless steel water distillers are the epitome of reliability and quality in water purification. Constructed from high-grade stainless steel, these distillers offer exceptional durability and resistance to corrosion.
Home water distillers are an ideal investment for anyone seeking to have complete control over the quality of their drinking water. These distillers are specifically designed for residential use, providing a convenient and reliable method of water purification within the comfort of your own home.

Exceptional Service
Experience our exceptional service as we offer expert guidance, prompt shipping, and reliable customer support to ensure your satisfaction with every purchase.

Best Price Every Day
With our best price guarantee, you can shop confidently, knowing that you'll find the most competitive prices on top-notch water distillers without compromising on quality.

Fast Shipping
Enjoy swift delivery to your doorstep with our expedited shipping from our Australian warehouse, ensuring you receive your water distiller in no time.